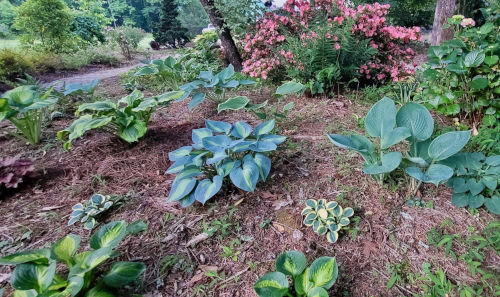 Shady areas of your property can be just as beautiful and inviting as sunny ones when properly designed. This post will cover everything you need to know about creating an enchanting shade garden, including layout, plant choices, and spacing.
Selecting Plants
When selecting plants for your shade garden, it's essential to add variation. Don't think of shade gardens as dull! Add interest with different height shrubs and plants, unique foliage textures, and colorful leaves and flowers.
Repetition of a few favorite plants throughout will help unify the entire garden.
Shrubs
Some of our favorite shade-tolerant shrubs include:
Azaleas
Daphne
Hydrangeas
Viburnum
Edgeworthia
Mountain Laurel
Holly
Yew
Serviceberry
Shrubs are a must-have feature because they add height to your garden. Even if you have beautiful plants, little height variation in your garden can keep it from reaching its full potential.
Many of these shrubs will also help attract songbirds to your garden. Birds love dense shrubs for cover and nesting. They will also feed on the berries from serviceberry, yew, and viburnum.
Perennials
Some of our favorite shade-tolerant perennials include:
Hostas
Bleeding Heart
Ferns
Dutchman's Breeches
Corydalis
Deadnettle
Hellebore
Astilbe
Heuchera (Coral Bells)
Toad Lily
Asarum
Epimedium
These perennials are often the backbone of a shade garden. They're more affordable than shrubs and provide a great return on investment, coming back year after year!
They also add quite a bit of color and interest all on their own, from the unique foliage of hostas and heucheras to the colorful flowers of corydalis and bleeding hearts.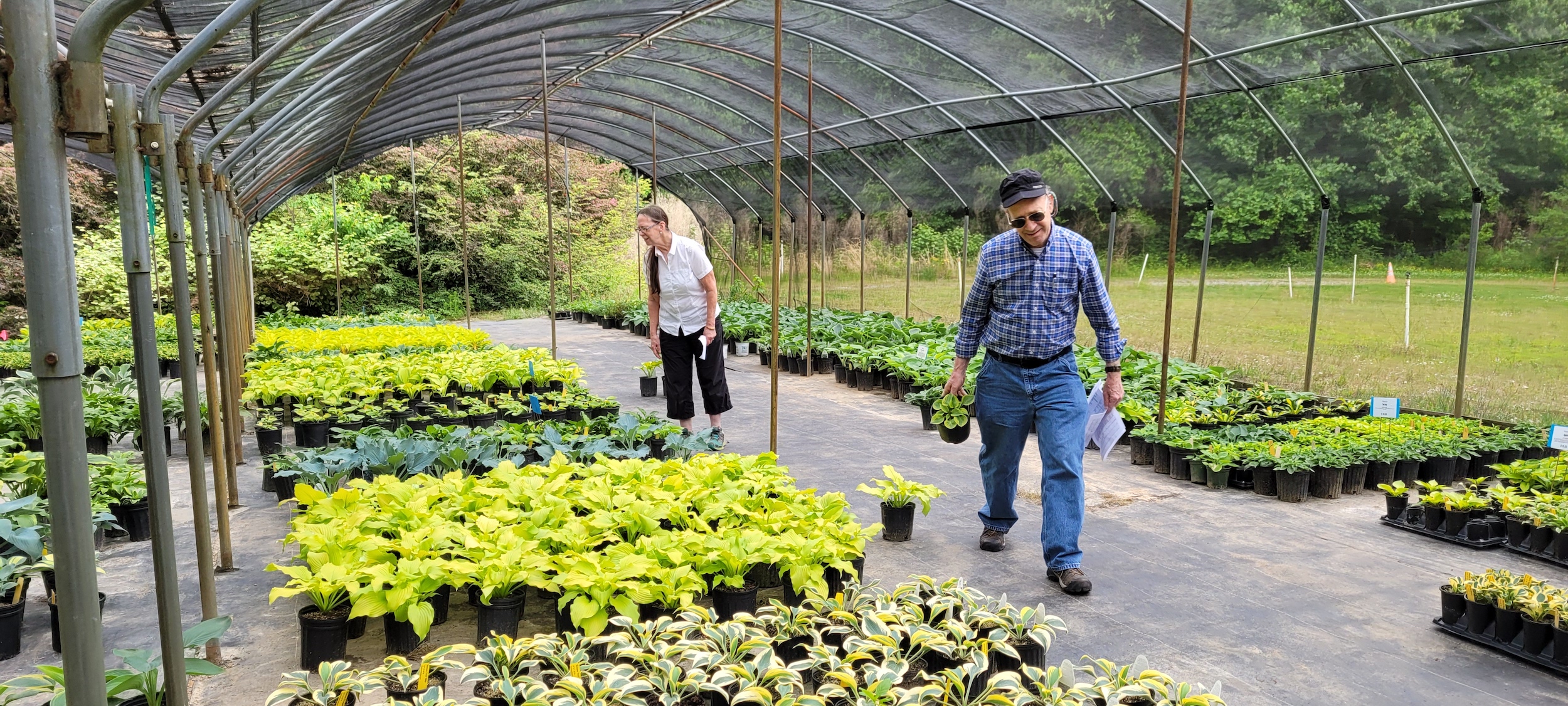 Annuals
Some of our favorite shade-tolerant annuals include:
Coleus
Impatiens
Begonia
Lobelia
Caladium
Sweet Alyssum
Fuchsia
Violas
Browallia
Annuals are fun because they allow you to change up the style of your garden a bit each year. Annual flowers are also a great way to add splashes of bright color through the season.
Layout
If you're creating a garden from scratch, designing a layout can be one of the most challenging decisions. Here are some tips to help you get started.
Hardscape
There are several ways to add interest to your gardens in addition to your plants. Pathways that draw you and visitors into the garden are great ideas. Depending on your style, you can add texture with paths of pea gravel, large stones, or even raised wooden walkways.
Obelisks, statues, boulders, and other garden ornaments can help create focal points to design a garden around.
In large gardens adding a bench or some chairs is a great idea. Encourage people to stop and stay awhile! Your garden is there to be enjoyed.
Water Elements
Adding water features to your shade garden can help make it feel like a relaxing oasis. They help add sound, movement, and reflect light which is ideal in a shady space. Small ponds or fountains make great focal points for small gardens. Larger ponds and streams are an excellent choice for larger areas.
Consider Your Property as a Whole
While your shade garden will undoubtedly be different than the sunnier areas of your garden, it's also a good idea to tie them together.
One way to do this is to keep a theme. If you like tropical feeling in the sunnier areas of your property and your outdoor living spaces, it's good to stick to that feeling in your shade garden.
You can also try to repeat certain plants throughout the property. Shrubs like holly and hydrangeas will tolerate full sun and partial shade.
Lastly, you can use a pathway or stream to tie them together. Have it wind through both the sunny and shade areas of a property.
Lighting
An evening in the garden is one of the treats of summer. Solar lighting can make your space more usable and inviting for relaxing evenings after work.
Add lights along pathways, near tables and benches, use them to highlight focal points, or add fairy lights to large trees and shrubs for a magical space.
Draw it Out
When considering your plant selection and layout, I recommend drawing up your plans. Even a brief sketch can help you visualize and make decisions about your garden. Many apps and websites will also help you create a basic map.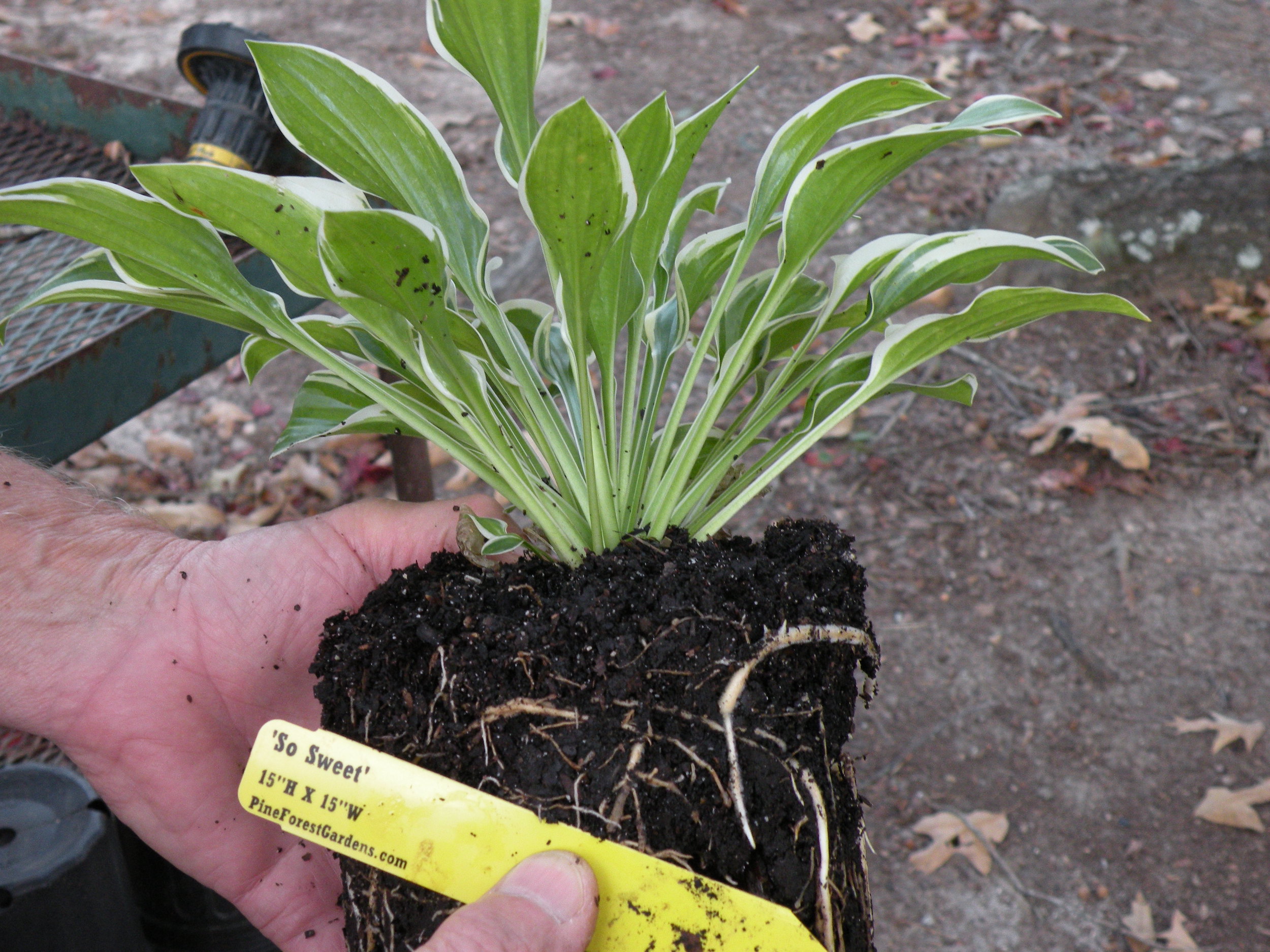 Plant Spacing
One of the biggest mistakes I see gardeners make when laying out a new garden is plant spacing. I've been gardening for years and still tend to place plants too close together.
When laying out your design, check on the mature size of your selected plants. Here at Pine Forest Gardens, we print the mature size on the pot tag for each plant (see photo above).
Giving each plant the proper space allows it to get adequate nutrients, water, sunlight, and good air circulation. Your plants will be healthier, and your garden will look full but not crowded as the plants mature.
Container Gardening
Even if you have space for a full shade garden, you may want to consider adding some containers. Containers are great because you can move them throughout the season, and they can be used on shade porches and patios, too, helping unify your outdoor living spaces and garden.
Attractive large planters and pots can also be great statement pieces! Using upcycled galvanized wash tubs or containers can add a farmhouse feel to your shade garden and brightly glazed pottery helps add pops of color.
For more information about container gardening check out our post Growing Hostas in Containers.
Shady areas of your property don't have to be bland or uninviting. Use these tips to design a welcoming shade garden where you and your friends and family can enjoy nature's beauty.